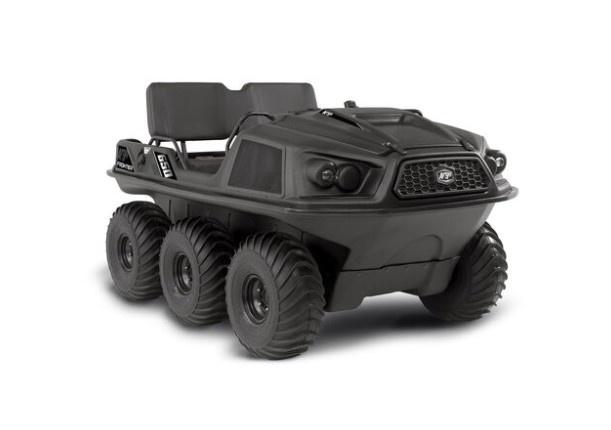 Condition: New vehicle
Manufacturer: Argo
Model: FRONTIER 650 6X6 BLACK
Year: 2023
Stock #: PNM21319
Type: Argo
VIN: 2DG6BAA02PNM21319
Exterior colour: Black
Cylinders: 2
Cooling system: Air cooling
Seats: 2
Notes:
FRONTIER 650 6X6

THE EXPERIENCE IS ANYTHING BUT ENTRY-LEVEL.

The Frontier six-wheeled amphibious vehicle might be the starting point for the XTV lineup, but everything about this machine is anchored in the bedrock of ARGO innovation and quality. Our Frontier 650 6x6 delivers the same dependable power and reliability of their bigger siblings to maximize your ability in the woods, mud or water.

Our classic transmission with ARGO Progressive Steering (APS) and Instant Torque Clutch (ITC) provides smooth handling so both new and seasoned outdoor enthusiasts can enjoy the unmatched flavor of the world's all-natural ingredients. Yes, the '23 Frontier 650 6x6 is a beginning. Now find out where it will take you.

SPECIFICATIONS

ENGINE VX 650
CYLINDER V-TWIN
FUEL SYSTEM CARBURETOR
COOLING FAN COOLED
ALTERNATOR OUTPUT (MAX) 16 AMPS
SERVICE BRAKES HYDRAULIC
STEERING BRAKES HYDRAULIC
AUTO CHAIN LUBRICATION NA
BRAKE COOLING FAN ACCESSORY
TRANSMISSION ODG CLASSIC W/APS
DRIVE BELT STANDARD
FULL SKID PLATE STANDARD
BRUSHGUARD ACCESSORY
WINCH ACCESSORY
FRONT RACK ACCESSORY
CARGO BOX N/A
BILGE PUMP STANDARD
ROPS N/A
STRETCHER FRAME N/A
REAR MESH N/A
ROOF N/A
POWER DUMP BOX N/A
LOAD CAPACITY - LAND 570 LB (258 KG)
LOAD CAPACITY - WATER 370 LB (168 KG)
TOWING CAPACITY 1,200 LB (544 KG)
SEATING CAPACITY - LAND 4
SEATING CAPACITY - WATER 2
FUEL CAPACITY 8.5 GAL (32 L)
SPEED - LAND 22 MPH (35 KM/H)
SPEED - WATER 3 MPH (5 KM/H)
WEIGHT 970 LB (440 KG)
LENGTH (INCLUDES WINCH WHEN STANDARD) 96 IN (2,439 MM)
WIDTH 58 IN (1,473 MM)
HEIGHT 51 IN (1,295 MM)
AXLE BEARING EXTENSIONS N/A
ENTRY STEP ACCESSORY
TIRES ARGO XT115 24X10-8
WHEEL STEEL OFFSET
GROUND PRESSURE (18" RUBBER TRACKS) 0.73 PSI (5 KPA)
GROUND CLEARANCE (TIRES) 10 IN (254 MM)
GROUND CLEARANCE (TRACKS) 11 IN (279 MM)
WARRANTY 1 YEAR
COLORS GREEN, BLACK, ORANGE

PRICE DOES NOT INCLUDE FREIGHT, PDI, DEALER FEES AND TAX (AS APPLICABLE).

PLEASE CONTACT US FOR MORE DETAILS.

Why buy from RAXFIN?

Proudly Serving Kapuskasing, surrounding area and Northern Ontario for many years and we have been a pillar of the community while supporting a number of local groups and charities. Our Awesome Customers have assisted us in achieving and maintaining our stellar 4.8/5 Google Rating.
RAXFIN offers the best selection of motorized sports vehicles and trailers in Northern Ontario. Over the years, we have continually evolved with our loyal customers and the vehicles we sell.
Today, we are prouder than ever to offer:
• The largest selection of new products: ATVs, UTVs, pontoons, boats, snowmobiles, personal watercraft, Argos and Trailers.
• Quality only! That's our guarantee to you. How can we do so? By offering you products from the best manufacturers: BRP, Princecraft, Argo, Mercury, Ranger Boats, Idéal Cargo, Sherp and K-Trail.
• An extensive inventory of used vehicles, ready to leave our dealership and to accompany you on your new adventures!
• Exclusive offers, great promotions and unbeatable discounts that you won't be able to refuse!
• A service and maintenance department attentive to your needs. Our certified and experienced professionals will take good care of your vehicle and return it to you as soon as possible. Repairs, regular maintenance and inspections: we take care of everything. Make an appointment now!
• Genuine parts and accessories that will meet all your needs.
• A professional, warm and friendly team that wishes to offer you impeccable service at each of your visits.

Please do not hesitate to contact us at 705 335-5200 for any questions about our products and services. You can also come and see us directly at our dealership in Kapuskasing, in Northern Ontario. We look forward to seeing you soon!

Every effort has been made to ensure the accuracy of this listing. Occasionally options, features, rates, programs, and inclusions may be listed in error. Please confirm all areas of concern with your Sales Associate at RAXFIN. Price is subject to change without notice at any time to reflect changes in the marketplace. Price is Plus Dealer Fees, HST & Licensing.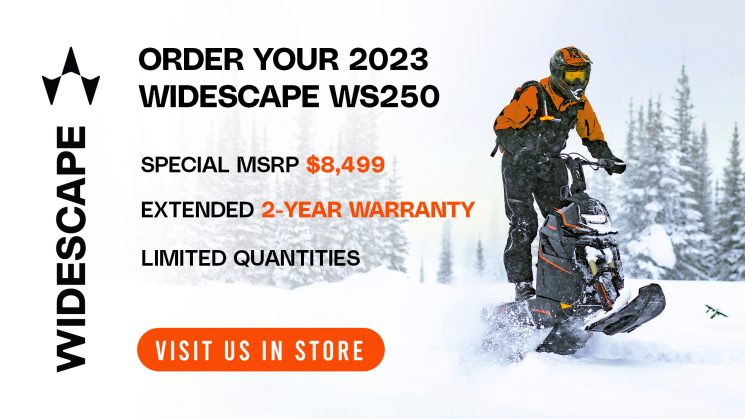 Offer valid while stocks last.