Condition: Used vehicle
Manufacturer: Argo
Model: Sherp Pro XT
Year: 2021
Stock #: D89187
Type: Argo
VIN: Y7972200XM0D89187
Exterior colour: Black
Notes:
DEFY EARTH'S STOP SIGNS.

The world has its own unique ways of telling humans to do a U-turn. Ice-crusted lakes, mud-slicked inclines and other nasty stuff that requires no red octagonal sign informing you to go back the way you came. There's one machine, however, that gives you the ability to blow right through those.

The Sherp Pro XT is designed for go-anywhere performance. It maneuvers effortlessly on any surface with its smooth skid steering, unique suspension and massive tubeless ultra-low-pressure tires. It's loaded with innovative technology, comfort and safety features. And the ability to get your gear, cargo and teams anywhere on the planet. Suddenly, the world is one big green light.

COMMERCIAL APPLICATIONS:
• Utilities & Power Lines
• Oil & Gas
• Search & Rescue
• Drilling & Pipeline
• Mining & Exploration
• Government
• Forestry
• Humanitarian
• Construction
• Thrill Seekers



SPECIFICATIONS


length, in 157
width, in 101
height, in 118
Body aluminum
Dry weight, Lb 2866
Engine Doosan D18
Fuel diesel
Volume, cu.m 7.8
Max. Power, hp 55
Transmission 6-speed manual
Suspension pneumatic circulating
Parking brake system handbrake
Clutch SACHS
Clearance, in 26
Number of cylinders 3
Load capacity, Lb 2640
Seats equipped with safety belts 8
Maximum (in top gear), mph 25
Minimum (in low gear), mph 1
on water, mph 4
Type of tires tubeless, extra low pressure
Tire size 71×23-25
Passable surfaces any
Hourly fuel consumption (depending on the off-road conditions), gal/h 1.3-2.2
Fuel tank capacity, gal 25
Capacity of extra fuel cans, gal 15.3×4 = 61.2 gal
Height of the obstacle in the form of a vertical step, ft 3
Hill climbing capacity 35°


KEY FEATURES

ENGINE – 55hp diesel eco-friendly engine provides high torque and fuel efficiency while providing optimum performance with a low level of noise and vibration.

TRANSMISSION – Skid steering system with hydraulic assist for exceptional maneuverability turning within its own width on land or in water.

FINAL DRIVE – Enclosed gears & oil bath chains for maximum performance and superior reliability under extreme conditions.

SUSPENSION – Our patented suspension system (tires and wheels), are self-inflating for optimum traction and provide a smooth ride in any terrain.

TIRES – Unique tire tread provides propulsion in water, excellent traction on land and sure grip to climb onto ice from water.

SKID PLATE – Decol steel flat bottom chassis provides smooth finish from front to back with a 24″ (60 cm) ground clearance, handles large obstacles with ease.

CAB – Lightweight aluminum cab with advanced interior ergonomics including multi-function digital gauge and fingertip controls all within easy reach.

ROPS – Integrated inside the cab is a full-length ISO certified 3471-2009 and 5700-2008 Roll Over Protection Structure.

AMPHIBIOUS – A distinguishing characteristic of the ARGO Sherp is its fully amphibious sealed compact chassis combined with massive all-terrain tires.

PRICE DOES NOT INCLUDE FREIGHT, PDI, DEALER FEES AND TAX (AS APPLICABLE).

PLEASE CONTACT US FOR MORE DETAILS.

Why buy from RAXFIN?

Proudly Serving Kapuskasing, surrounding area and Northern Ontario for many years and we have been a pillar of the community while supporting a number of local groups and charities. Our Awesome Customers have assisted us in achieving and maintaining our stellar 4.8/5 Google Rating.
RAXFIN offers the best selection of motorized sports vehicles and trailers in Northern Ontario. Over the years, we have continually evolved with our loyal customers and the vehicles we sell.
Today, we are prouder than ever to offer:
• The largest selection of new products: ATVs, UTVs, pontoons, boats, snowmobiles, personal watercraft, Argos and Trailers.
• Quality only! That's our guarantee to you. How can we do so? By offering you products from the best manufacturers: BRP, Princecraft, Argo, Mercury, Ranger Boats, Idéal Cargo, Sherp and K-Trail.
• An extensive inventory of used vehicles, ready to leave our dealership and to accompany you on your new adventures!
• Exclusive offers, great promotions and unbeatable discounts that you won't be able to refuse!
• A service and maintenance department attentive to your needs. Our certified and experienced professionals will take good care of your vehicle and return it to you as soon as possible. Repairs, regular maintenance and inspections: we take care of everything. Make an appointment now!
• Genuine parts and accessories that will meet all your needs.
• A professional, warm and friendly team that wishes to offer you impeccable service at each of your visits.

Please do not hesitate to contact us at 705 335-5200 for any questions about our products and services. You can also come and see us directly at our dealership in Kapuskasing, in Northern Ontario. We look forward to seeing you soon!

Every effort has been made to ensure the accuracy of this listing. Occasionally options, features, rates, programs, and inclusions may be listed in error. Please confirm all areas of concern with your Sales Associate at RAXFIN. Price is subject to change without notice at any time to reflect changes in the marketplace. Price is Plus Dealer Fees, HST & Licensing.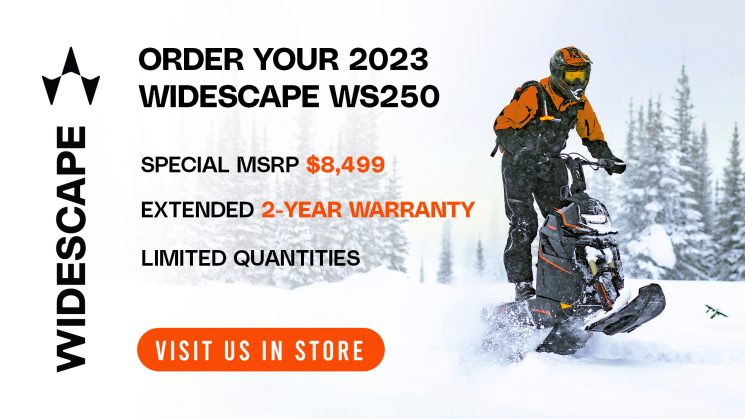 Offer valid while stocks last.