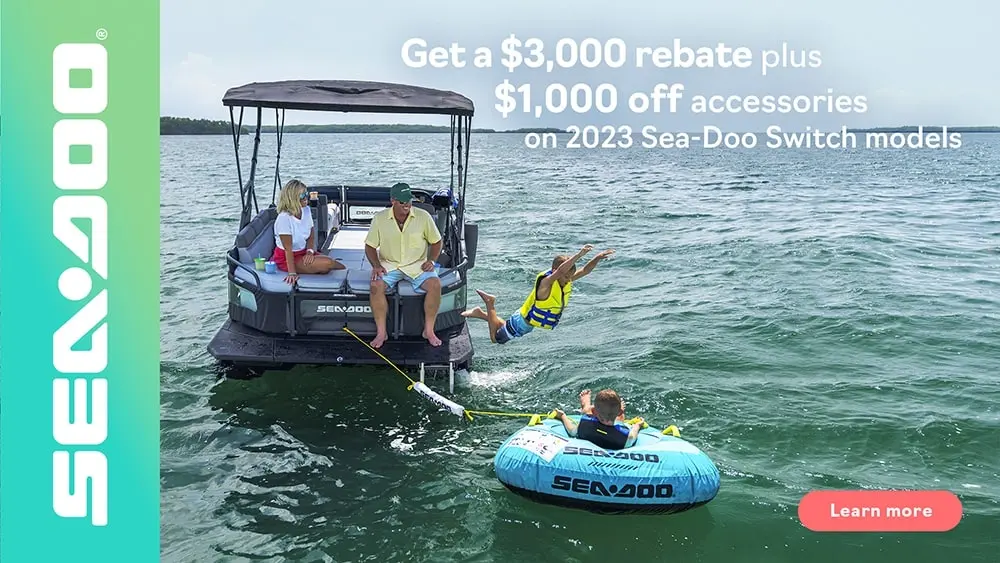 Offers valid from August 21, 2023 to January 7, 2024.
Manufacturer: Sea-Doo
Model: Explorer Pro 170 Iceland Grey
Year: 2023
Type: Adventure
Engine: 170
Type: 1630 Ace™- 170
Engine Horse Power: 170 Hp
Engine Intake System: Naturally Aspirated
Cylinders & Displacement: 1630 Cc
Engine Cooling: Closed-loop Cooling System (clcs)
Engine Reverse System: Electronic Ibr®*
Engine Fuel Type: 87 Octane
Engine Throttle System: Itc™ (intelligent Throttle Control) System
Engine Exhaust System: D-sea-bei™ System
Rider Capacity: 3
Weight Capacity: 272 Kg / 600 Lb
Fuel Capacity: 70 L / 18,5 Us Gal
Storage Capacity Of The Glove Box: 2,9 L / 0,8 Us Gal
Storage Capacity Of The Front Bin: 96 L / 25,3 Us Gal
Rear Platform Capacity (without Passenger): 100 Kg / 221 Lb
Storage Capacity Of Linq® Explorer Bag: 100 L / 26,4 Us Gal
Total Storage Capacity: 198,9 L / 52,3 Us Gal
Vehicle Length: 373,4 Cm / 146,8"
Vehicle Width: 125,5 Cm / 49,4"
Vehicle Height: 140 Cm / 55,5"
Dry Weight: 390 Kg / 859 Lb
Features: Tech Package : Brp Audio – Premium System, Full Color 7.8" Wide Display And Usb Port (optional)
idf – Intelligent Debris-free Pump System
garmin† 7′′ Touchscreen Gps & Fish Finder
touring Windshield
heavy Duty Front Bumper
adjustable Handlebar Riser
ergolock™ Two-piece Explorer Touring Seat And Knee Pads
gunwale Footrests
linq® Multi Cargo Rack
rear Deck Extension With Second Linq® Attachment Systemlinq® Explorer Bag
ibr® - Intelligent Brake & Reverse
vts™ (variable Trim System)
boarding Ladder
rf D.e.s.s.™ Key
direct-access Front Storage
watertight Phone Compartment
linq® Attachment System
knee Pads
wide-angle Mirrors
handlegrip With Palm Rests
footwell Carpets
large Swim Platform
1 Linq® Front Supports
cupholder
tilt Steering
ski Tow Eye
seat Strap
Hull Type: St3™ Hull
Hull Material: Fiberglass
Type Of Gauge: 7.6" Wide Digital Display (w/o Audio)
large Panoramic 7.8" Wide Lcd Display (optional W/ Audio)
Gauge Main Functions: Brp Connect (opt.)
music (opt.)
weather (opt.)
bluetooth Connectibility (opt.)
speedometer
rpm
clock
vts™
fuel Consumption (opt. W/ Audio)
fuel Autonomy
water Temperature
speed Statistics (opt. W/ Audio)
vehicle Hours
sport Mode
eco® Mode
slow Mode
speed Regulator
Warranty: Brp Limited Warranty Covers The Watercraft For One Year.